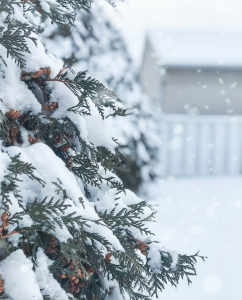 Fun things to do for the holidays around Omaha (COVID-Friendly!)
It's no doubt that this year has been different in a whole myriad of ways, but we are all craving the normalcy and comfort of the upcoming holiday season. Luckily in our city, there's still plenty of opportunity to reclaim the magic. Whether you're looking for free things to do with the family, an escape with your partner, or wintry fun for you and your friends, here's a list of great options to keep everyone entertained.
Note: For the most up to date details, make sure you check the event's website prior.
Meet Santa – Now through December 24th, meet Santa safely with distancing and private reservations. Make them through Bass Pro Shop or Cabela's,
November 14th through New Year's Eve, Countryside Village is also offering private Santa experiences. Also, Westroads Mall is offering a virtual Santa experience with a visit to the North Pole. Register online here.
Christmas at Union Station – Tree Lighting Ceremony – November 26th, 7pm, enjoy an Omaha tradition — virtually! Watch the magic of the twinkling display come to life right from the comforts of home.
Santa's Woods – November 27th – December 3 – Located in Blair, Santa's Woods is an outdoor wonderland with hayrack rides, Santa with his Reindeer, s'mores, and a wintry gift shop.
AirBnB Staycation – Need a night away and a change of scenery? There are hundreds of affordable local airbnb locations in the metro area. Find a neighborhood or downtown location with easy access to restaurant takeout options and enjoy a night in with a change of scenery.
Most rentals also have very strict cleanliness policies and COVID restrictions — check the seller ratings and descriptions for how they maintain their property should you have concerns.
Chef Tasting Menu – While traveling may be out of the question for some, you can still bring the magic of savoring top cuisine right at home, With most restaurants open for table seating and operating under strict COVID-guidelines, there's still a chance to get a luxury experience by some of the Metro's top chef talents. Treat yourself and a loved one to a chef tasting menu at one of the area's finest establishments such as Au Courant, Dante, Monarch Prime, V.Mertz, Dolce, or Yoshitomo. Or, if you prefer to stay in the comforts of your home, the once pop-up kanō is now offering private, in-home tasting menus that are sure to be an event (and meal) to remember.
Light Drive-Through – Pack your car full of hot cocoa and snacks for a drive through of Omaha neighborhoods scenic holiday light decor. Some of the best neighborhoods to look at the bright displays are Linden Estates, Wycliffe, Dundee-Memorial Park, Joslyn Castle, Season of Lights in Turner Park, Mockingbird Hills West, Standing Bear, Barrington Park, and Silverleaf Estates.
See a great and inclusive list at Oh My Omaha
I'm never too busy for your referrals! Let your friends and family know I'd love to work with them!
Megan Owens, Realtor
"Delivering extraordinary care for extraordinary clients."
Owens Real Estate Group
Berkshire Hathaway HomeServices Ambassador Real Estate
Phone | 402-689-4984 Email | [email protected]
©Copyright. November 2020. Megan Owens.
All Rights Reserved.
Image Via: Unsplash